You've heard about online dating, but what if you feel more comfortable connecting over the phone? Phone dating might just be the perfect solution for those looking to forge meaningful connections without having to meet face-to-face immediately.
As more people are turning away from traditional forms of interactions in favor of remote alternatives, phone dating has become increasingly popular. This blog post digs into how phone dating works; from understanding its benefits and drawbacks to signing up for a service that fits your needs and setting yourself up for an enjoyable conversation — let's jump right in!
What is Phone Dating and How Does it Work
Are you tired of scrolling through endless apps and swiping left and right on dating profiles? Maybe it's time to try phone dating. There are plenty of phone chat lines that provide a unique way to connect with potential matches over the phone without the pressure of an in-person date or the endless messaging back and forth. All you need to do is call a designated phone number and record a brief introduction of yourself. From there, you can listen to recorded messages from others on the line and start a conversation with someone who catches your interest. It's a fun and laid-back way to meet new people and see where things might lead.
Benefits of Phone Dating
Phone dating offers a refreshing change from the traditional dating scene: it provides a secure and convenient way to meet new people while saving time and money. That aside, there are other benefits you should take into consideration:
Anonymity and privacy: Phone dating allows you to maintain your anonymity until you're ready to reveal yourself. You can chat with someone without sharing personal information, making it a safe option for those who value their privacy.

More genuine connections: With phone dating, you get to converse with someone in real time, which can lead to more authentic and meaningful connections. Voice tone and inflections can convey emotions better than text, making it easier to build a rapport.

No pressure: Unlike a traditional first date, phone dating is low-stakes and stress-free. You don't have to worry about dressing up or finding the perfect location for a date; you can simply focus on getting to know each other without any outside distractions.

Convenience: You can call and chat with potential matches at any time, making phone dating a convenient option for those with busy schedules or those who prefer connecting from the comfort of their own home.
If you're looking for a fun, exciting, and safe way to meet new people, phone dating is definitely worth trying out!
Drawbacks of Phone Dating
While phone dating can be a great alternative to traditional dating, it may not be for everyone. Here are some potential drawbacks you should consider before diving in:
Limited information: With phone dating, you only have audio cues to go off of and limited information about the other person. This means you'll have to rely on conversation skills rather than appearance or detailed profiles.

Difficult to gauge chemistry: While voice tonality can convey emotions, it's still not the same as meeting someone in person. It may be challenging to accurately gauge chemistry or compatibility over the phone.

Potential for fake profiles: Just like online dating, there is always a chance of encountering fake profiles on phone chat lines. Be cautious and trust your instincts when talking to someone new.
As you can see, there are both pros and cons to phone dating. It's important to weigh them carefully and decide if it's the right fit for you.
How to Get Started with Phone Dating
Ready to give phone dating a try? Here are some tips to help you get started:
Find a reputable phone dating service: Do your research and find a reliable and trustworthy phone chat line that fits your needs. Make sure to read reviews and testimonials before signing up.

Record an attractive introduction: Your recorded greeting is what will catch the attention of potential matches, so make it interesting and authentic. Be yourself, but also try to be engaging and memorable.

Stay safe: Remember, your safety should always be a top priority. Never

share personal information

or agree to meet someone in person without being completely comfortable and confident in the situation.

Be open-minded and have fun: Phone dating is all about exploring new connections, so don't take it too seriously. Keep an open mind and enjoy the experience!
How to Prepare for a Successful Phone Date
So, you've connected with someone on the phone and set up a date – now what? Here are some tips to help you prepare for an enjoyable conversation:
Choose a quiet and comfortable spot: Make sure you have privacy and won't be interrupted during your call. A quiet and comfortable environment will help you relax and focus on the conversation.

Have some conversation topics in mind: It's always a good idea to have a few conversation starters ready. Ask about their interests, hobbies, or recent experiences to keep the conversation flowing.

Listen attentively and be yourself: Just like with any date, active listening and being authentic is key. Show genuine interest in what your date has to say and be yourself — that's who they want to get to know after all.

Don't be afraid of silence: It's natural for there to be moments of silence during a conversation. Embrace them and use them as an opportunity to gather your thoughts or simply enjoy the moment.
With these tips in mind, you're now ready to make a meaningful connection over the phone! Whether you're looking for a romantic relationship or simply want to expand your social circle, phone dating offers a fun and unique way to connect with others.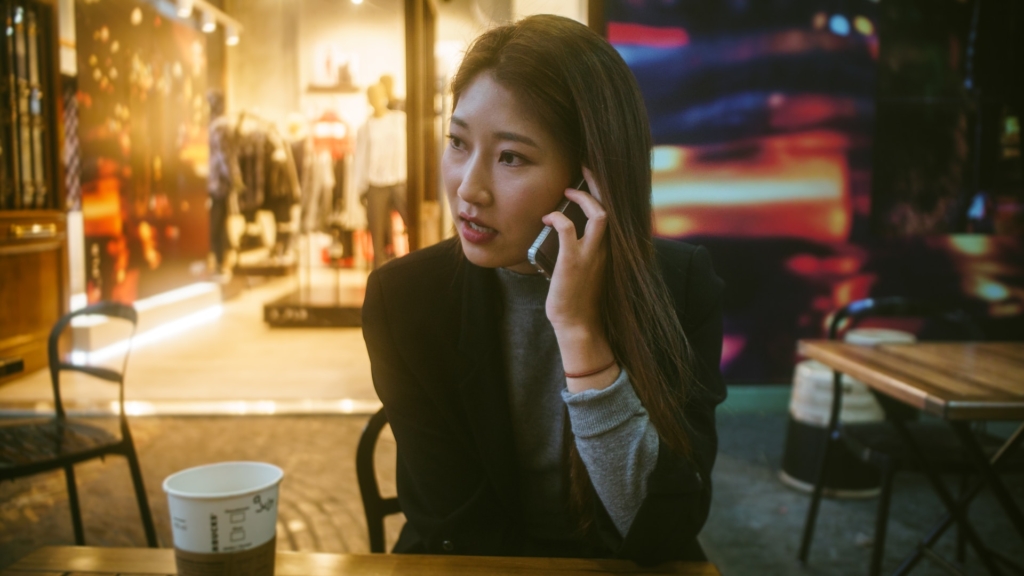 Phone dating presents an alternative pathway to establishing connections, particularly appealing to those who prefer verbal communication and the convenience of connecting from home: it offers a degree of anonymity and flexibility that can be quite liberating. But like any form of dating, it's not without its challenges — limited visual cues and potential for misrepresentation are among them.
Know that with careful consideration, an open mind, and due diligence, phone dating can serve as an engaging platform to meet new people and foster meaningful relationships. Even if you don't land a date, you'll likely enjoy some interesting conversations along the way!