Introduction
For local businesses, local SEO is crucial to success. By optimizing your website and other online listings for local search terms, you can increase visibility, generate more leads, and ultimately drive more sales. However, for enterprise-level businesses with multiple locations, local SEO can become more complex and difficult. In this article, we will explore the top 5 enterprise local SEO challenges and the solutions you can put in place to achieve success. Read on to learn more!
The Top 5 Enterprise Local SEO Challenges
Enterprise Local SEO has become an essential tool for businesses of all sizes to reach a wider audience and attract potential customers. However, for larger-scale businesses, there are some unique challenges that must be addressed in order to truly capitalize on the potential of Local SEO. The top five challenges for enterprise Local SEO are:
Establishing a Local Presence: Businesses must establish a local presence in order to reach potential customers in the areas that they serve. This includes using location-specific keywords, optimizing local listings, and investing in local marketing.
Managing Multiple Locations: Large businesses often have multiple physical locations, which can make managing local SEO efforts difficult. It is important to ensure that each location is properly optimized and that any listings or citations reference accurate information.
Managing Multiple Websites: Businesses that serve different geographic areas often need multiple websites in order to reach customers in those areas. Local SEO efforts must be coordinated across each individual website.
Developing a Consistent Brand Message: Enterprise businesses need to ensure their brand messaging is consistent across all of their local SEO efforts. This includes implementing a unified SEO strategy, as well as providing a consistent user experience.
Tracking Results and Adjusting Strategies: Enterprise businesses often need to track and adjust their local SEO strategies in order to maximize their efforts. This includes tracking rankings, website traffic, and other metrics in order to understand what is effective and what needs to be adjusted.
By understanding these top five enterprise local SEO challenges, businesses can develop effective strategies to address them and maximize the potential of their local SEO efforts.
Challenge 1: Localizing Your Website
Localizing a website for SEO purposes can be a daunting task. Businesses need to ensure that the content of their website is tailored for the local market in order to maximize their search engine visibility. This includes customizing the content for different regions, integrating local language translations and making sure the correct currency is used. Additionally, businesses need to make sure that their location is accurately identified and listed on local search platforms such as Google Maps. By doing this, businesses can ensure that their website is properly optimized for local search results.
Challenge 2: Managing Multiple Locations
Managing multiple locations for an enterprise business can be challenging and time consuming. It's important to keep track of all the company's location information and make sure it is up-to-date across all platforms. Doing this manually can be time consuming and costly. Luckily, there are solutions that can help automate the process and keep your local SEO data up-to-date and consistent. For companies with multiple locations, consider using a local SEO platform to streamline the process of managing local data. A local SEO platform can help you manage all of your location data in one place, from business information such as contact details and service areas to content such as reviews, ratings, and citations. Additionally, these platforms can provide valuable insights about local trends and customer behaviors, helping you make data-driven decisions about your local SEO strategy. To Improve your local searches of your business you may consult to Toronto Incrementors local seo
Challenge 3: Generating Quality Traffic
Generating quality traffic is essential for the success of any enterprise local SEO initiative. Unfortunately, it's not always easy to achieve. To generate quality traffic, enterprises must be able to target local users, utilize effective digital marketing channels, and track and optimize their campaigns.
One of the most effective ways to target local users is through search engine optimization (SEO) techniques. This includes using keyword research to identify the terms and phrases that local users are likely to search for, and then optimizing content to target those terms. Additionally, enterprises should leverage social media, pay-per-click (PPC) campaigns, and other digital marketing channels to reach local audiences.
Finally, enterprises should track the effectiveness of their campaigns and optimize them as necessary. By tracking things like page visits, time on page, and clicks, enterprises can identify their most successful strategies and focus their efforts on those. By taking these measures, enterprises can generate quality traffic and improve their local SEO initiatives.
Challenge 4: Retaining Users and Improving Engagement
Successful enterprise-level SEO requires the company to not only attract new users, but to retain existing ones. Retaining users requires engaging them with content and experiences that keep them loyal and returning. To do this, businesses need to thoroughly understand the needs and preferences of their target audience and serve up content accordingly. Additionally, companies should analyze engagement metrics such as time on page, repeat visits, and conversions to get a better idea of what is resonating with their users. To boost engagement, businesses can experiment with different types of content, such as videos, podcasts, and interactive experiences. Additionally, investing in personalization and segmentation strategies can allow companies to tailor content to the specific interests and needs of their users, leading to greater retention in the long run.
Challenge 5: Monitor and Adapt to Changes
Monitoring and adapting to changes is essential for any successful enterprise SEO strategy. By paying close attention to market trends, you can ensure that your SEO campaigns are in line with market demands. To do this, you must set up systems that will track changes on a regular basis. This includes monitoring analytics data, reviews, search engine trends, and competitors. Regularly assessing these changes allows you to recognize when it's time to adapt and update your SEO strategies. Updating your tactics with the changing market needs will keep you ahead of the competition, enabling you to maximize your returns.
Solutions for Enterprise Local SEO Challenges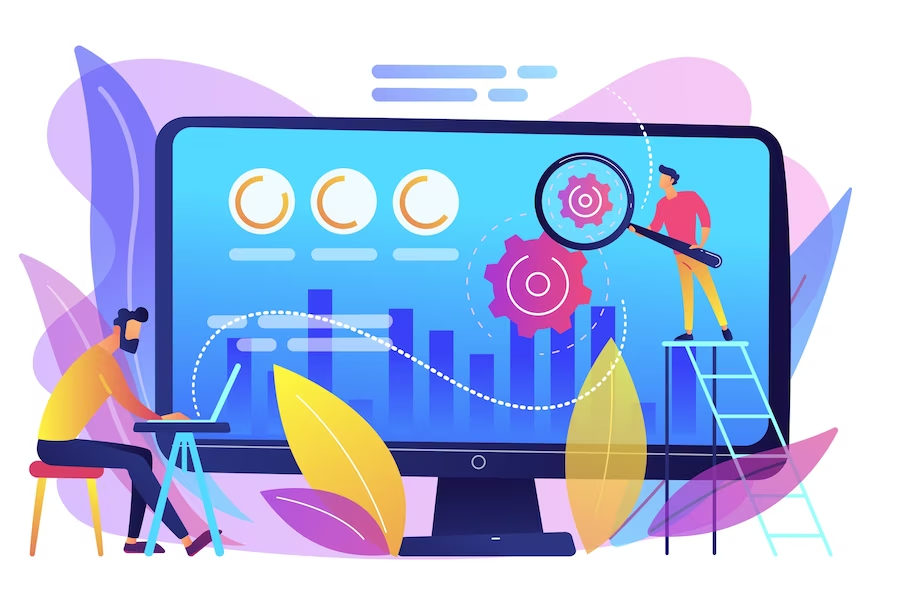 When it comes to local SEO for large, enterprise organizations, there are unique challenges that can inhibit success in the search engine rankings. Fortunately, there are also solutions for each of these challenges so that enterprise organizations can benefit from a comprehensive local SEO strategy. Here are some of the top enterprise local SEO challenges along with their corresponding solutions.
First, one of the biggest challenges for enterprise local SEO is the complexity of multiple locations. Coordinating campaigns for dozens or even hundreds of individual locations requires a powerful software platform that can manage each location's SEO efforts and track performance. The right software platform should also have automation features to reduce the amount of manual work.
Second, enterprise organizations also face challenges with engaging with customers through reviews and earning backlinks. The solution here is to invest in an automated review management system that can monitor customer reviews across multiple platforms and alert you when any negative feedback appears. Additionally, backlinks can be earned through outreach campaigns and guest blog posts to earn quality links back to your local business sites.
Finally, accurate data is essential for local SEO success, but it can be difficult for enterprise organizations with multiple locations to keep track of this data. The solution for this is to invest in a comprehensive local data management system that collects data from multiple sources and organizes it into a central repository. This can help you identify any errors or inconsistencies with your data as well as track performance over time.
By addressing these common enterprise local SEO challenges with the right solutions, large organizations can benefit from a comprehensive local SEO strategy and improve their search engine rankings.
Solution 1: Optimize for Keywords & Local Intent
When aiming to increase visibility for local businesses, one of the most effective strategies is optimizing for both keywords and local intent. To do this, businesses need to develop high-quality content that is relevant to their customers and optimized for search engine rankings. First, keyword research should be conducted to identify which keywords are most relevant to the business's services. Then, content should be created including the identified keywords, with an emphasis on language that conveys local intent. This can be done by focusing on location-specific topics and local events, as well as including mentions of the local city or region. Finally, the content should be optimized with local SEO techniques, such as creating localized structured data, setting up a local presence in review sites, and using local business directories. By leveraging local SEO techniques, businesses can ensure they are appearing in local search results and gaining the visibility they need.
Solution 2: Utilize Location Extensions & Structured Data
Location extensions and structured data are essential tools for effective local SEO. Location extensions provide important contextual information to users when they search for a business, such as store hours, contact information, and location. Structured data, on the other hand, helps search engines better understand the content of a web page and its relevance to a given query. To increase visibility and rankings in local search, businesses should use location extensions & structured data to their advantage. This can be done by adding address and phone number information to the website, using Google My Business, and adding structured data to webpages for results to be shown in SERPs. When properly implemented, this will help ensure that businesses appear in local search results and are able to engage more effectively with local customers.
Solution 3: Leverage Reviews & User Generated Content
When trying to optimize your business's local SEO, leveraging online reviews and user generated content can have a big impact. Reviews and user generated content have become essential elements of online marketing. They provide potential customers with real feedback and can help boost visibility in search engine rankings. Consumers are more likely to trust a business with many positive reviews, which in turn boosts conversion rates. Additionally, reviews can provide valuable feedback that can help businesses tailor their services to better meet customer needs. Companies should actively solicit feedback through ratings and reviews platforms and use user generated content such as photos and videos to show potential customers what their business is about.
Solution 4: Increase Audience Outreach
One of the key components of successful local SEO is audience outreach. Through targeted outreach efforts, businesses can widen their reach to potential customers and increase brand awareness. Outreach can include distributed press releases, engaging in social media activities, and networking with local influencers and media outlets. Additionally, businesses should ensure that their content is optimized to target the right local markets. Through targeted SEO, businesses can make sure their content is reaching the most relevant audiences. Finally, businesses should consider using tools like local link building to increase their visibility in local markets. All of these elements combine for a comprehensive local SEO strategy that can successfully increase a business's visibility with their target audiences.
Solution 5: Use Automation & Monitor Regularly
To stay ahead of the competition, businesses need to stay on top of their local SEO performance. Automating the process of monitoring and analyzing local SEO can be a great way to save time and effort. Automation tools can help businesses identify areas where improvements can be made, monitor changes in rankings and generate reports. Additionally, automated systems can help ensure that local listings are kept up-to-date and accurate, increasing the chances of success with local SEO and digital marketing strategies by Incrementors. Regular monitoring and optimization can be the difference between an enterprise succeeding or failing in their local SEO efforts.
Conclusion
In conclusion, Local SEO is essential for any business that wants to reach customers in the local marketplace. The top 5 enterprise local SEO challenges and the solutions to address them should be kept in mind when developing an effective local SEO strategy. By localizing the website, managing multiple locations, generating quality traffic, retaining users, and improving engagement, businesses can ensure that customers can easily find their products and services online. Additionally, by implementing strategies such as optimizing for keywords, leveraging reviews, and increasing audience outreach, businesses can increase their visibility and appear in local search engine results. Finally, by using automation and monitoring regularly, businesses can stay updated and make the necessary changes in their strategies to ensure maximum success.
Author BIO –
Brack Nelson
is the manager at Incrementors, a company that assists clients in expanding their online businesses by bringing in more customers, 
Incrementors is an Award-Winning Digital Marketing Agency
lead, and sales. Online marketing solutions that are specifically adapted to the demands of the clients are the Incrementors' area of expertise.