Here are the 6666 Retro games ROMs Pack, known as retro_legends DVD, including the best and most popular retro games of the 80s to mid-90s.
the collection is including 790 sens ROMs, 772 Atari2600 ROMs, 534 MAME ROMs, 327 Neo Geo ROMs, 46 Nintendo 64 ROMs, 2105 Nintendo NES ROMs, 369 Sega Master System ROMs, 984 Sega Genesis ROMs, 99 Gameboy ROMs, and 12 ZX 8bit PC ROMs.
If you are on Windows OS, you do not need to set up any emulator of any retro gaming system. It's already included within each game console folder as a portable and ready-to-run version, so from the emulator system you run, just open and point to the target zipped ROM file.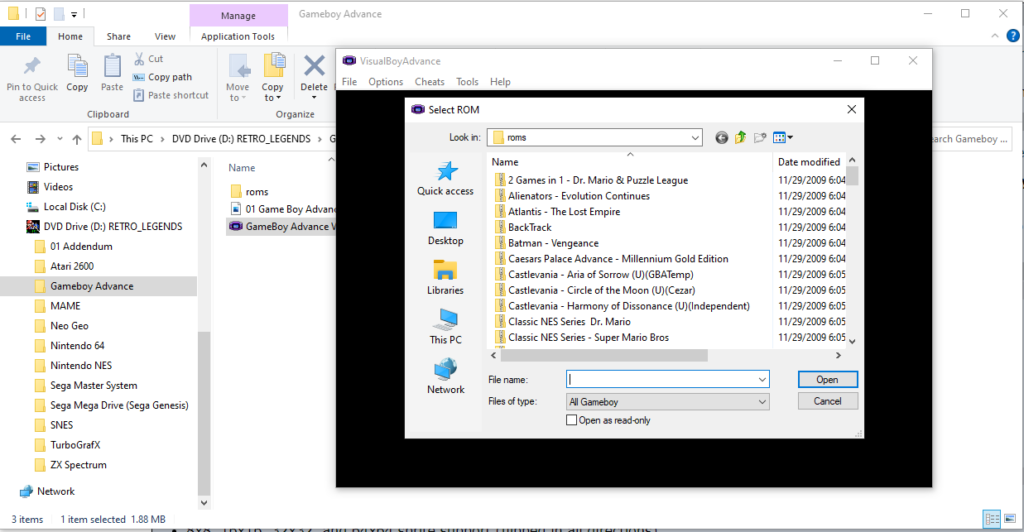 After downloading process is completed, you will need to mount the output file: RETRO_LEGENDS [GigaPack] 6666 in 1.iso
On Windows, you just need to double-click it, and the ISO file will be mounted automatically as a DVD Drive.
On Linux, you can mount the iso file as the following
# sudo mkdir -p /mnt/retro
# sudo mount -o loop /path/to/file.iso /mnt/retro
Or you may need to unzip it using 7Zip application.
Any way to apply the save game progress feature, you need to copy the entire Retro games folder outside the mounted drive.
while all included emulators are Microsoft Windows version, the Roms files are zipped and compatible with all other emulators distributions for other Operating Systems even Android.
See Retropie roms full collection of games.
Download The Retro Games
As the retro_legends ISO file is above 5G, I prefere to download it using the below torrent file.
To learn how to download torrent files on Windows and Linux, please see: Lightweight μTorrent (utorrent) torrent clients for Linux and Windows OS
And for Linux Only: Transmission CLI The Best Torrent Client For CentOS 8 Linux
Download The Torrent Retro Games File
The Retro Games Rom Sets
The Retro Games List contains The following Roms tables (Tables loaded by JavaScript so you may need to wait a moment for loading):
Atari2600 772 Retro Games Roms
MAME 534 Retro Games Roms With Multiple Color System
Neo Geo 327 Retro Games Roms
Nintendo64 46 Games Roms
Nintendo NES 2105 Games Roms
SNES 790 Games Roms
Sega Master System 369 Games Roms
Sega Genesis 948 Games Roms
TurboGrafX 664 Games Roms
Gameboy Advance 99 Games Roms
ZX Spectrum 12 Games Roms